SolidMachine-Tools
The range of machine tools under the Solid Machine Tools brand is the result of BV Machinery's 45 years of experience and a long-standing partnership with our manufacturers. You can find our various types of machines under the following brands:
SolidTurn: Conventional lathe
CNC SolidTurn: CNC hybrid lathe
SolidSaw: Saw
SolidDrill: Drill and drill press
SolidIW: Ironworker
SolidMill: Milling machine
We have worked together to give you the best value for your money and to offer you sturdy, reliable, quality machines.

Manford
The Manford Group owns five companies in Taiwan, including Manford, Winford, Avemax, Automac Smartauto and Manford Guarding Co. Ltd. The group produces a wide range of products: five-axis, double-column, vertical, horizontal and tapping machining centres and CNC lathes.

Kiheung
Since it was founded in 1968, Kiheung has become one of the largest manufacturers of cutting-edge machine tools. The company specializes in the manufacture of medium and large CNC bed milling machines, mobile vertical drilling/boring machines, mobile vertical fixed bed machines, double column machining centres, simultaneous five-axis machining centres, and double-column/five-axis and vertical lathes.
Kiheung is committed to improving quality by fulfilling its customers' requirements, collaborating with them, and guaranteeing complete satisfaction and unforgettable service. The team is able to ensure the continuous distribution of high-quality machine tools designed to meet customer requirements worldwide.

Takisawa Machine Tools (Japan)
Passion and dynamism. These have been the hallmarks of Takisawa since its creation in 1922 as a machine tool manufacturer. Building on 90 years of experience and traditions of excellence, the company currently features a variety of state-of-the-art products such as conventional CNC lathes and machining centres, including drills and sophisticated industrial automation cells/systems.
Its machine tool line is constantly evolving to keep up with the times, but always remains resolutely focused on the future.

Taiwan Takisawa
Taiwan Takisawa's machine tool line includes small- and medium-sized CNC lathes and high-speed, non-CNC precision lathes. The company also manufactures original equipment for all types of lathes that it supplies to Japanese companies.
Taiwan Takisawa has enhanced its technical capabilities through its partnership with Takisawa Machinery Company in Japan. This joint effort has formed a solid foundation for Taiwan Takisawa's highly skilled professionals, who have years of experience and expertise in manufacturing products that are known worldwide for their quality.

Ermaksan
Ermaksan continues to innovate with the aim of establishing itself as one of the world's leading producers in technology and R&D. The company has become a top industrial organization in the sheet metal processing machinery sector.
Thanks to its strong R&D team and some 800 qualified employees, it produces high-quality machines. The company is pursuing future-oriented R&D, including fibre laser technologies, new machine models, industrial 4.0 applications and 3D printers (additive manufacturing). Its products can be found in 110 countries!
It continuously follows new trends and customer expectations, designs and produces technologically advanced, high-value-added, environmentally friendly and energy-saving machines. The company is thus firmly committed to sustainable growth by using resources effectively and efficiently.

Femco
FEMCO designs, manufactures, sells and distributes a complete range of CNC machine tools, including lathes, vertical lathes, horizontal boring machines, wheel lathes and levellers.

You Ji
With over 40 years of experience, You Ji is known for its design skills and the quality of its machines. It offers a wide range to meet a variety of needs.
The company was the first Taiwanese manufacturer to pass the electromagnetic compatibility (EMC) test, obtain CE certification and start selling in the European market. It is the largest manufacturer of vertical lathes and drilling machines in Taiwan. Its collaboration with other state-of-the-art machine manufacturers helps improve the quality of its products and give its customers the best service in the industry.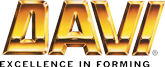 DAVI
Founded in Italy in 1966, DAVI is the world's largest manufacturer of heavy-duty plate rolls and angle rolls, high-production lines and custom rolling machines. Its sales volume, workforce, production capacity, assets, impressive list of patents and reputation make DAVI a key player in the manufacturing sector.
Its success is based on learning and striving to develop the greatest skill in the bending process. Today, DAVI machines are designed using the most advanced 3D CAD techniques and are always tested using finite element analysis to ensure strength and solidity.
Great attention is also paid to design, which is constantly improved and applied to the production of its heavy-duty plate rolls and angle rolls. Its research and development division is always ready to design customized solutions and meet customers' needs.

Everising
The third largest metal band saw brand in the world, Everising has specialized in medium and large band and circular saws since 1982, and is constantly innovating thanks to its R&D team. With two factories—in Taichung, Taiwan, and Kunshan, China—its annual production tops 2,000 units.
Over the years, quality, innovation and advanced technology have guided the company through sustained growth. Everising's policy has always been "Let the customer lead the way."

Jesco
Jesco specializes in the manufacture of high-precision lathes, teach-in lathes and slant-type CNC lathes. In 1990, the company picked up the torch from Da Shin, a company with over 20 years of history.
Since then, it has based its production on constantly improving and developing its techniques and machine tools. Jesco can be found all over the world, but particularly in the United States.

Dimeco
Dimeco is a family-owned company, a world leader in machine tools for sheet metal production. Its products for cutting, punching, shearing, roll forming and bending guarantee unparalleled speed and quality of execution.
All products are developed according to the highest market standards, in terms of mechanics, control systems and software. All this makes it possible to customize the machines to suit the needs of each customer.

Wila
Wila has been in the industry since 1932 and specializes in clamping, bending and tooling for press brakes. Their innovative, high-quality tool holders and tooling improve press brake productivity, reduce cost per product and make sheet metal bending operations more profitable.
Wila's products are developed by highly qualified experts to meet market requirements. Wila offers local support around the world through its sales offices in the United States, China and Europe.

Tecoi
Tecoi is a Spanish company founded in 1995 that has grown steadily since the beginning. The company is dedicated to designing, manufacturing, installing, developing and maintaining plants that process metals by laser, plasma, oxyfuel cutting, sheet metal machining and edge preparation for welding.
They have offices on five continents and in more than 25 countries, making this company a leader in innovation and quality.